Mid term administration cabinet reshuffle has topped President Muhammadu Buhari's agenda as Vice President Yemi Osinbajo had submitted a draft list for considering and approval.
Sources at the Presidency said the President Buhari has made up his mind to rejig his cabinet very soon but is torn between moving around the current crop of ministers or dropping them completely and replacing them with new appointees.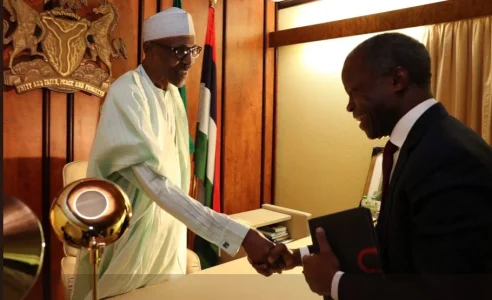 In a Thisday report, Vice-President Yemi Osinbajo had presented Buhari with a draft list for the reshuffling of the cabinet for his consideration and approval when he visited the president last month in the United Kingdom.
The president, it was gathered, however, asked his deputy to tarry a while until he returned to the country, informing Osinbajo that since the administration was midway into its tenure, it would be the only opportunity for him (Buhari) to reshuffle the cabinet.
With Buhari's return since August 19, the president has been preoccupied with reshuffling his cabinet as soon as possible, sources confided in Thisday.
The presidency source further revealed that Buhari has been counselled by those close to him to jettison the list given to him by Osinbajo completely and dissolve the cabinet so that he can bring in new hands that will be loyal to the president and his agenda.
Osinbajo Submits Draft List, As Buhari Weighs Options On Cabinet Reshuffle
Reviewed by
getitrightnigerians
on
17:55:00
Rating: