Leader of the Indigenous People of Biafra,IPOB, Nnamdi Kanu, has described northern youths who issued quit notice to Igbos as 'inconsequential' and 'badly educated.'
Kanu said this while fielding questions from journalists on Friday.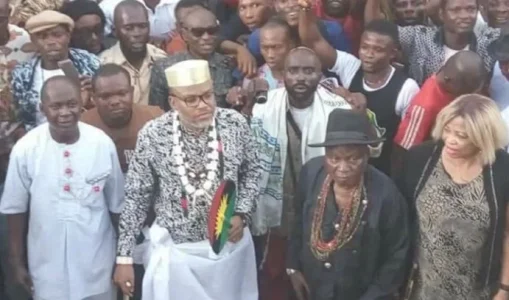 He said: ''I don't know who they are. I don't know who they are. Inconsequential street urchins. Badly educated. Not polished nor cultured enough to offer any opinion on any issue of great importance. So why should I respond to them?
''That is the issue I have with education in Nigeria. People are badly educated. You are aware that Scotland is seeking to leave the United Kingdom? Are you remotely implying that every person from Scotland who lives in England should now return to Scotland? Britain just left the EU. Are you now implying that every British citizen in the EU should come back to Britain in order to finalise that process of extraction of Britain from the EU? It is an indictment of the education system in Nigeria that people go through school and come out even more hopeless than when they went into it.''
He also advised Igbos in the north to make and live with their decision as this will not stop the Biafra agitation.
''It is up to them, they have been in the North, and they have been killing us (Igbos) since 1945. If you chose to live in the North, you chose to be a sacrificial lamb because one day, they will kill you. It is a choice they have made and they will have to live with it.
''They are not going to stop us. Nobody can stop us. We are unstoppable. I can say with every ounce of confidence, Biafra will come, no matter what people do. If you like, go and own one thousand storey building in Kafanchan, that is your business. It has nothing to do with us. We are fighting for our freedom. Look at these kids here, they are paying fees to go to school. They are striving to survive every blessed day because of a very failed system of governance and you want me to abandon them because you own a hotel in Funtua? I can't do that.''
Nnamdi Kanu Blasts Northern Youths, Calls them 'Inconsequential and badly educated street urchins
Reviewed by
getitrightnigerians
on
18:52:00
Rating: