The Acting President, Yemi Osinbajo may be in next round of trouble with the National Assembly leadership over his 2017 budget remark.
The Senate and House of Representatives on Thirsday hit at Prof. Osinbajo, declaring that the parliament won't cede its constitutional powers to the Executive, particularly on budget.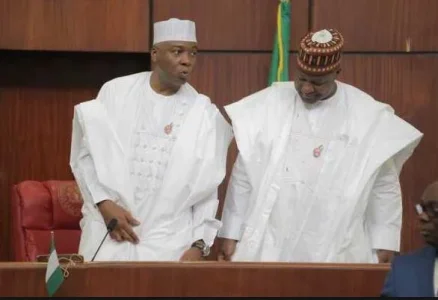 Osinbajo was quoted to have said that the National Assembly has no powers to introduce new projects to the budget before passing it.
President of the Senate, Dr. Bukola Saraki, said that the Chamber's consultations with the Executive should not be misconstrued for ceding or surrendering its powers to the Executive.
Speaker Yakubu Dogara declared that the House will not rubber stamp any budget proposal from the executive as the National Assembly has absolute power to tinker with the appropriation bill.
Dogara warned that non-implementation of the budget attracts sanctions.
Reacting to a point of order raised by the Deputy Senate Leader, Bala Ibn Na'Allah on Osinbajo's comment, Saraki said: "The Senate will continue to defend the constitution and ensure that anything we do is in line with the laws of the land.
Saraki and Dogara spoke during plenaries at both chambers.
Saraki, Dogara Move Against Osinbajo Over 2017 Budget Remark
Reviewed by
getitrightnigerians
on
04:16:00
Rating: