The presidential aspirant of the Peoples Democratic Party, Bukola Saraki, on Tuesday, said Nigerians who voted President Muhammadu Buhari in 2015 had been shortchanged because instead of the President, a few people who constituted themselves as a cabal had been ruling them.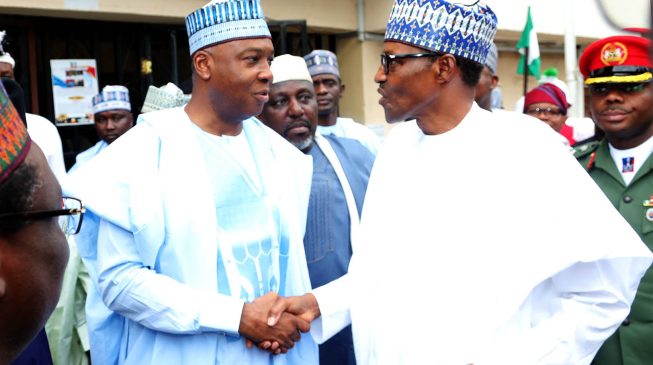 Saraki, who is also the Senate President, spoke while addressing PDP delegates in Oyo State during a meeting where he solicited their votes.
He argued that a few influential world Presidents who had visited Nigeria under the present administration did not stay beyond a few hours because they were convinced that their host did not understand their mission or contributed to the discussion as expected.
He also said that Nigeria lacked the progress it deserved because voting patterns were determined by religion, language and ethnicity instead of capacity and merit. Among those in his entourage were Senator Rafiu Ibrahim, Senator Abiodun Olujinmi, Captain Idris Wada, Dr Doyin Okupe and Muhammed Wakil.
Saraki said, "Over the years, we have made mistakes in electing people based on sentiment. Yes, it is time we corrected it. We will correct it because we are capable. Over the years, we have voted for people based on religion, the language they speak and where they came from in Nigeria. We need people who have the courage, capacity, ability and determination.
"I have shown over the years, particularly in the recent years that one has the opportunity of leadership, that I have the capacity to take Nigeria forward. The countries that have done well did so not by bringing leaders by chance but because they looked for capable leaders. It is time to pick such a leader.
"The President we have now does not understand leadership. We have endured him for more than three years but it is the same thing. Nigerians voted for him (Buhari) but a cabal is ruling the country. That is not what democracy means. This time, let us look for who can do it. In Nigeria today, we do not have unity. What we need in the present world is a digital President.
"When your president sits with world presidents, he should be able to understand what they are saying. That is why presidents who have visited the country did not stay more than a few hours. But when they know that their host understands them, they will stay longer and explore investment opportunities in Nigeria."
Saraki said he considered Oyo State his home because his paternal grandmother was from Iseyin area of the state. He added that the state's priorities would be protected if he became the President.
Similarly, Saraki stated that Nigerians must vote for a capable leader in 2019, stressing that this was critical to the development of the country.
He stated that the nation could not take the over 80 million Nigerians out of poverty without a President with drive, vision and focus.
Speaking in Abuja on Tuesday while presenting his development blueprint to the Southern and Middle Belt Leaders Forum, the senator admonished the people against voting for candidates on sentiments.
"The Asian tiger we talk about didn't happen by chance, it didn't happen by trial and error, it happened because they have visionary leaders, leaders that know where they want to take their countries to," the Senate President said.
He blamed lack of inclusiveness in governance, impunity and insensitivity for the precarious state of the country, noting that the government lacked empathy.
Nigerians voted Buhari but cabal is ruling them –Saraki
Reviewed by
getitrightnigerians
on
06:31:00
Rating: