In 2006, Nigeria paid about $12.4bn to its foreign creditors in other to enjoy the $18bn debt write off, from the country's total external debt of about $30bn. Nigerians heaved a sigh of relieve from the crippling debt overhang.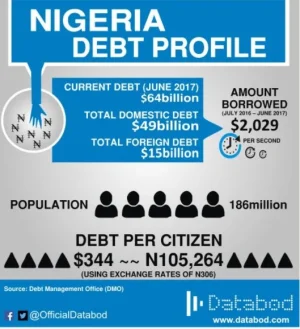 However, since 2010, Nigeria's debts have been increasing at an alarming rate. The rate of growth in Nigeria's debt profile between 2015 and 2017 is particularly worrisome.
In just 12 months (July 2016 - July 2017), Nigeria borrowed an average of $2,029 [N730k] per second.
As at June 2017, Nigeria's total debt stood at $64billion i.e. Total Domestic debt = $49billion. Total foreign debt = $15billion. Using the official population figure of 186million, the total debt per citizen is $344 ~ N105,000.
Nigeria Borrowed Over 700k Per Second In Just 12 Months [Databod]
Reviewed by
getitrightnigerians
on
18:31:00
Rating: