The National Chairman of the All Progressives Congress (APC), John Odigie-Oyegun, on Thursday told cynics of the present administration that some electoral promises of the party cannot be achieved in this administration.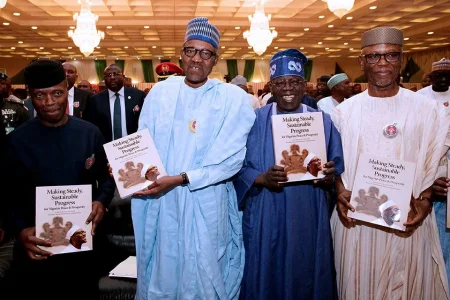 The APC national chairman stated this in his address during the public presentation of the mid-term scorecard on the President Muhammadu Buhari administration, titled: 'Making Steady, Sustainable Progress for Nigeria's Peace and Prosperity'.
According to him, the party had achieved much within a space of two years that needed to be publicized and propagated by party members.
He commended the Media Team of the President for putting together the achievements of the President, which he said many party members might not be aware of.
Also, he commended the Ministers who had briefed the APC National Working Committee on what they are doing in their different ministers to assist the President in achieving the dreams of the party.
Commenting on those criticizing the party on its promises, Oyegun said, "I have heard some people accuse us of denying some of our campaign promises and I wonder what they are talking about.
"The manifesto of any political party must necessarily contain two categories of promises – those that are achievable immediately and within the lifespan of the administration and; those that are aspirational.
"We are only slightly beyond the halfway mark in our first four years, yet have achieved so much, so Nigerians have good reason to look forward to the future with great hope.
"Yes, there are real challenges that people face every day. We have accepted the responsibility to improve the quality of lives of every Nigerian. This clearly is already working very much in progress.
"l am confident that with this publication being presented here today, we would have answered, loud and clear, those who have asked us what we have achieved in two years".
Why Buhari Can't Fulfil All Promises – Odigie Oyegun
Reviewed by
getitrightnigerians
on
07:07:00
Rating: