Some chieftains and members of the Cross River State House Assembly of the Peoples Democratic Party (PDP) have accused Governor Ben Ayade of working covertly for the All Progressives Congress (APC), and is responsible for the decamping of notable members of the ruling party in the State to the APC.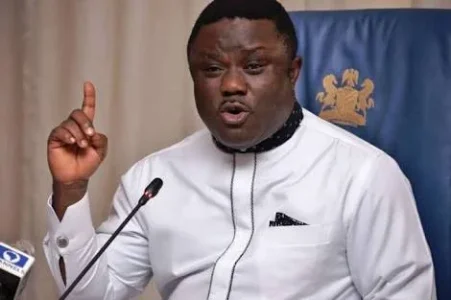 The PDP stakeholders also accused the governor of awarding contracts to known APC members to the exclusion of PDP faithful.
"It does appear that there is a deliberate and dedicated effort to ensure that the PDP in Cross River State is substantially weakened and reduced to a platform incapable of any significant impact on political fortunes of our State," the petition read.
The allegations are contained in a petition to the National Chairman of the PDP, Senator Ahmed Makarfi, received on October 20, 2017 at the national headquarters of the party and signed by a former deputy governor, Efiok Cobham, former Majority Leader of the state assembly, Hon. Tom Agi, one-time special adviser on public transport, Edem Ekong, former Attorney General, Attah Ochinke and nine members of the state assembly.
"In a manner that has confounded all party members, HE, The Governor has on several occasions, openly expressed his support for the APC and even admitted that he has been funding the APC in the State. Indeed, and as if to confirm the foregoing, the only contracts awarded in the state are to members of the APC," the petition reads in part.
The petitioners cited examples of Ayade's empowerment of the APC to include; "the Boki link Road, a project with a contract value of over N4billion, was awarded to a chieftain of the APC, and 80% of the contract sum paid upfront;
"The Governor's very first contract upon assumption of office, was for supply of Refuse Collection Bins. This contract was infamously awarded to another chieftain of the APC from the Governor's Local Government Area;
"The Present State Woman Leader of the PDP, was the flag bearer of Labour Party in the 2015 general elections into the State House of Assembly. While still a Labour Party member, she was nominated by a chieftain of the APC and appointed by the Governor to serve as the PDP State Woman Leader! She has never bothered to decamp from Labour Party and has maintained her dual membership of the parties till date," the petitioners wrote.
When contacted, Chief Press Secretary to the Governor, Mr. Christian Ita, promised to call back on the issues raised but he never did, while other attempts to reach him failed.
Trouble For Ben Ayade of PDP, As Lawmakers Accuse Him Of Working For APC
Reviewed by
getitrightnigerians
on
05:35:00
Rating: