'I almost slept with my brother" S3x worker from Lagos Open Air Brothel Where Men Sleep with Prostitutes Openly says
Sunday Telegraph's tour of the den of prostitutes in Ejigbo, Lagos, led to, indeed, a big discovery about the activities of the 'scarlet of the night' and their perverse sexual lifestyles. Bricks and Mortar brothel may have been undesirable for them as they have sex in the open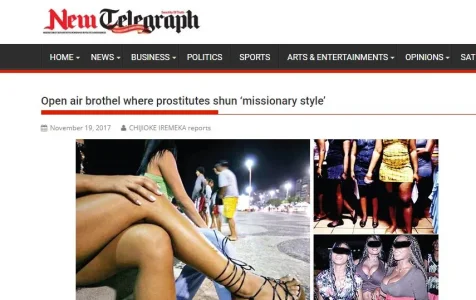 'One Corner' the instant erotic dance popularised by, Patapaa Amisty, a Ghanian musician, best explains what prostitutes do in open air brothel in Ejigbo LCDA, Lagos State. Sunday Telegraph's tour of the community was, indeed, a voyage of discovery of perverse sexual lifestyles of prostitutes in Ejigbo.
On three different occasions, our reporter visited the location, it's no longer bricks and mortar four walls brothel but now an open air where passersby view live pornography shows free. In the open air brothel, missionary style is undesirable.

The 'One Corner,' brothel is structured in a way that it admits multiple sexual partners which enables users to have a feel of what obtains at the other partners' end. The sexually perversed partners are always at liberty to borrow a style from others within the brothel.

Quickies best elucidate the coitus here as there was neither mattresses or synthetic nor raffia mats to lie on except for empty bags of cement sutured together to make a low-range covering.

After payment of N200 to the owners of the brothel and N500 to the prostitute, the gate is opened for sex partners. Others, who came in vehicles, do their quickies there.

It was gathered that there is random selection of the core girls for 'one corner dance' especially in the early hours. Most of them, who spent all night clubbing and drinking usually cool off before leaving the club house. This session is for those who do not want to take prostitutes home.

Sunday Telegraph learnt that this was the reason the environment is littered with used condoms and tissue papers in the early hours of the morning. Some of those who can't gain access to the club house, defecate in some dark places.

Ejike Okoro, a regular caller at the club told our reporter that: "After clubbing, we enjoy ourselves before going home. I don't take prostitutes to my house. They can be very heartless and mean. They steal, sometimes they are fetish and they are very desperate. So, the best bet is to do it here and let them go. Besides, you spend less, doing it here."

Bunmi Adesina is one of the main movers at the club, who took our reporter to a corner for share of her sexual benevolence. She made a futile effort to persuade our reporter to do it at the back of a kiosk, adjacent Egigbo LCDA, since our under cover reporter confessed not to have money to pay for short time in a hotel.

Adesina, who insisted she will make do with bend-down quickie style insisted that she must be paid N500, while the ready to go 'home service' goes for N4, 000. She revealed that she prefers short-time to the more cumbersome all night service as she makes more money going for several rounds at the brothel or by the corner.

She disclosed that on a good day, she makes as high as N15, 000 every night on quickie, adding that no home service can give her such amount.

She noted: "All you need to do is to pull your trousers a bit down and penetrate through the back. You will enjoy it. Most men like doing it from the back. The other option is for you to sit in your car and carry me, and we do the real thing inside your car. But if you want to take me home, I will charge you N4000."

Bunmi added that, they used to have some people whose job is to make small covering and collect N200 for anyone, who want to make use of it. The best style in the open air brothel is kneeling and bending as there is no space for missionary style.

A half-naked Joy Stephen, at the entrance of the Ejigbo LCDA side of the park is also willing to enter the open air brothel with our under cover reporter who pretended to be a customer for a show of different styles.

Without mincing words, she said, "I won't go to your house, it's okay for us here. Or how many rounds you want do? Your house dey far. Make we do am here nah. Any amount you give me I will take instead of going home. This one pays me more. If I get eight customers, it's okay for good business. Call baba, he will show us where to stay if you don't want to stay that place. I go do everything to you here," she quipped in pidgin English.

Blessing Nwankwo, who declared that she was lured into prostitution by her neighbour said she used to do all styles in the open air brothel until officers the Special Anti-Robbery Squad (SARS) cameras scattered our business. After that experience, she has been avoiding customers with strange ideas.

She revealed that, the whole started after she saw the affluent lifestyle of a lady she admired in her neighborhood and was bent on knowing what she does. Eventually, she was introduced to a night club, where men go home with them and gave them some good cash.

"Right now, it has become part of me and I cannot stop. Though, I make money sleeping with men, sometimes I have sex without money. I'm used to sex. So anywhere, any time I'm available. I can do it here, I can do it at home. But I'm not telling you not to pay me ooo," she added.

However, our reporter's three days visit to this perverse centre was smooth from Cele Express to Jakande Gate, Oke-Afa. Perhaps, one needs not ask questions as collection of skimpy and half-naked dressed ladies draw attention to the Nite Club, located at the next Bus-stop, NNPC Fuel Station/Junction.

This club assumes two different statuses. In the morning, it's quiet and calm but becomes den of prostitutes and clubbers at night. If you miss your way going there in the morning, the same will not be the case in the evening as the busy activities of prostitutes grab ones' attention.

The club house is fizzy, with the prostitutes outside the club and Ejigbo LCDA gates almost out numbering the men who they flock around for possible patronage.

The club named New Romeo and Juliet shares common perimeter fence with Ejigbo LCDA, making the council's premises one of the most sought after open air brothels. Some security guards attached to the LCDA were allegedly part of the administrators of the open air brothel, an allegation they denied.

The LCDA/Romeo and Juliet have wide parking space for vehicles, and this forms a big converging centre for the core girls, while the entrance to the Club is guarded by bouncers.

On arrival, however, a well-shaped girl with rounded hips, Jessica Asika, from Ogwashi-Ukwu in Delta State, sighted our correspondent and came for a possible patronage. "Hello sweetie, you are here," she said as if she knew him as a regular customer. After a response from our correspondent, she appealed: "I'm thirsty. Please, help me with water," a request, which was granted by our correspondent.

Shortly after this, the prostitute became an Oliver Twist and said, "I'm hungry, please help me with N100 bread, I will eat it with my water." Seeing that she was experiencing lull in the business that first night, our reporter granted her request and added a bottle of bottled soft drink instead of water.

Seemingly mannered, though the reason for her involvement in the business of prostitution is complicated, she turned down the request to have a quickie at the open air brothel or behind the kiosk, saying: "I don't want 'one corner.' There are places for short time. I don't want police to arrest me and you won't like being beaten by the police while on boxers. I don't like that place."

According to her, until last month, Ejigbo LCDA premises, and the adjourning building, including open air, are the places 'one corner' quickies take place. She said the brothel doesn't ensure proper coverage of the people as passersby see them while having sex.

"We can fuck there, pointing at one of short-time rooms, but I won't go to the open air because police come to raid the place. Before, we used to settle the police officers and security guards attached to the Ejigbo LCDA until SARS came and arrested some people. Some guys were arrested half-naked and I am sure you won't want such embarrassment, "she said.

She insisted that there are different short time brothels that can be used for N1000 instead of going to open air brothel. She added that the open air brothel goes for as cheap as N500 and even N200.

"I like short time because I make more money. On a good day, I can take as much as seven men per night if I decide to go on short time. I choose my customers. One of the criteria is that, such a person must be neat. I don't do dirty people," she said.

To our reporter, who requested sex without payment, she said after laughing, "Yes, we are friends already. Well, if you become my friend, you will pay once in a while, but if you don't have money, you will not pay.

I like you; at least, you are fine. So, I can have sex with you without pay but when you have, you help me too," she appealed.

Also on expected styles, she said, "If you pay well, I will give you all the styles you like, if not, I will give you normal styles.

The styles depend on the amount customers are willing to pay.

I almost slept with my brother – Susan

Susan Esemene is indifferent about going to the open air brothel. She almost slept with her relative in one of her expeditions. She didn't know that a client she brought into her room hails from her village in Agbor. God so kind, the customer spoke her native dialect and discussion ensued.

"God saved me one day, I almost had sex with a relative. When we were ready for the action, he spoke my native dialect and I asked if he was from Agbor. By the time we were done discussing, we were from the same village.

"We can't even marry for you to know how close we are. And the guy was like, what are you doing here, and what pushed me to this? I told him my story (Discordant story) and he wanted to help me but I told him that I won't work for anybody again. I want to do business of my own.

"My parents live in Asaba, Delta State, while I live alone in FESTAC Town, Lagos. Since then, before I do anything with anybody that I don't know, I ask questions.Eventually, the guy gave me N1,000 and left without doing anything. He couldn't even go for another woman that night again. We later exchanged phone numbers.

"How can I do runs where I live? I might run into somebody that knows me. They don't know what I do," she said, responding to the question, why she doesn't operate in FESTAC, where a number of good Nite clubs exist.

She stated that she took to prostitution after her boss demanded for sex from her. This claim sounded superfluous. Susan is hoping and believing God that one day she will get married to a God-fearing man.

"The open air brothel is a make shift tent where the owners collect as low as N200 per round of sex. You don't lay there rather you squat or you bend while the man penetrates from the back. It's not hidden even other people passing will be seeing you while you do that. Though, it is about everybody minding their own business here. She can charge N500 or N700 per round in open air. For me, I'm N1000 or nothing for you."

Ihuoma Maduforo, another prostitute said, "I like short time. If I can do three to four short times in one night I am done for the day. The money paid depends on the mood of the customer. Sometimes the Yahoo boys can pay us N3,000 or N5000 for short time. So, if I am lucky to see a Yahoo boy who gives me N5000 for each round, I will go home happy. That is good business for the day."

It's source of worry – Residents

Residents of Ejigbo by NNPC said it's a horrible sight to behold. "If you come out in the night you will feel sorry for our women and men, who patronise the prostitute here. There is no value to womanhood anymore in this part of Lagos and I wish that human right groups can do something urgent about the terrible situation here.

"I learnt that SARS tried to stop the activities of the prostitutes reacting to series of petitions written by landlords and residents but it has continued unabated," Mrs. Georgina Adekanbi, a resident told our reporter.

Paul Odueme, one of the residents of the community said, "It is a source of worry to some of us that lives around there. I didn't even know that such a thing exist there until somebody pointed it out to me."

Pastor Victor Obiora said those are the signs of end-time, adding that there is the need for serious evangelism in such areas. He lamented that such evangelism cannot be done without cash to empower the young girls.

"Churches can come up with programmes to rehabilitate prostitutes who want to quit the job and empower them with artisan skills and other businesses that give them some comforts. If not so, after such conversions, they still go back to their vomits. We will not condemn them, they are the ones Christ died for and sent to the church to recover," he said.

However, the Managing Director, New Romeo and Juliet, Mr. Iyke Egegbara, said he runs event centre, VIP Lounge, and open bar and have no business with the prostitutes outside his premises, saying that, he has security personnel that protects his customers.

He said, "Let me clear this misconception. My customers are the ones within my premises and not the ones outside. We have always made the announcement that anybody that comes for the Nite Club should come in and standing outside is at person's own risk.

"Our security personnel are inside here and they protect those inside. Though we have few others whose job is to secure the cars outside, but all vehicles are parked at owners' risk. You can see, outside our premises is well lit, so I don't know how and where the young girls could have sex there. We have mounted CCTV cameras here to help us monitor the activities outside.

"If you are pointing at that side, then, that is local government premises and not New Romeo and Juliet. The only thing I can tell you is that, few weeks ago, some touts organsied some people and apportioned spaces for them to sell hot drinks and other products on the Ejigbo LCDA premises.

"When that came to my notice, I called the attention of the Local Government and they were eventually sent away. So, we do not encourage prostitution or open air chalets here as you have said. We run lounge here.

"You can see banks and council on the both sides of our business area. New Romeo and Juliet Lounge runs three major businesses: the open bar, event centre and VIP Lounge."

Again, one of the people selling inside the club, Chinedu Mba, said they have no business with the core girls. "They come around because they see young guys clubbing here."

When Sunday Telegraph visited Ejigbo LCDA to comment on the allegation that its premises are used for the different forms of sexual pervasion, our reporter was told that the council doesn't have a Public Relation Officer who would have responded officially to the assertions.

Mr. Opesetan, the Human Resources Manager, was also not available and would only be able to comment of the issue next week.

However, a security officer, Mr. Yusuf Adejumo, said, if our reporter can wait until next week, he would meet him. Adejumo stressed that all management staff had gone out for one assignment or the other. "There was a time petition on such situation was raised, but after investigations, it was discovered that such claims were fake. We have security men here and such will not be allowed," he said.

When contacted to comment on the weird things happening at the premises of the Ejigbo LCDA, the Lagos State Police Public Relation Officer, SP Olarinde Famous-Cole, tried to establish the fact that those activities are happening there and he queried:, "Do you have any evidence of what you are saying? Evidence like video clip or have you been there yourselves? It's weird to believe, so please send me a text message so that I can get the DPO of that area to comment on what has been the situation. Let's us not act on hearsay."

Speaking on whether prostitution has been legalised in Nigeria, and why such activities should be allowed to happen under the police watch, he said never will anybody do that. "Without calling the DPO, I can tell you that we cannot condone any act of disorderliness in the state or actions that would disturb the peace of the people in the environment.

"I'm sure if such had happened before in this community it definitely not going to be in the last two months. You mentioned that SARS came and raided everywhere. So, it's on record. If you can go there with the DPO of Ejigbo on mufti to find out whether such acts are still happening there. I will appreciate, if it turns out to be true, I can assure that we will make arrest and even prosecute ccused persons.

"Police is on top of its game and if anybody sees things disturbing the peace of the people, do not hesitate to send an official complaint to us, we shall definitely follow it up immediately. The police cannot see everything at the same time, at all times, so we need reports from the public to end crime in the country. Meanwhile, kindly send a text message, detailing exactly place to me so that I can get the DPO to be part of it."
Telegraph
'I almost slept with my brother" S3x worker from Lagos Open Air Brothel Where Men Sleep with Prostitutes Openly says
Reviewed by
getitrightnigerians
on
20:40:00
Rating: