An army general, Lym Hassan, who is currently undergoing a court-martial was secretly recorded allegedly threatening to "eliminate" President Muhammadu Buhari over a defence contract, TheCable exclusively reports.
Hassan, the coordinator of peace keeping at the ministry of defence, was arraigned before the military court on October 30, 2017 and charged with two allegations: spreading rumours that Buhari was dead and demanding $600,000 bribe from a defence contractor.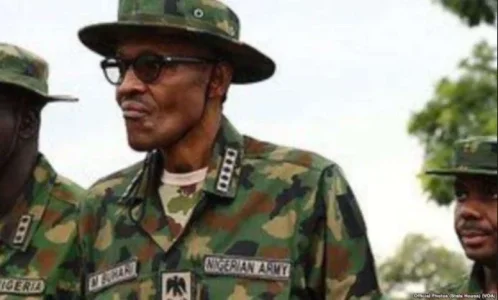 Unknown to Hassan, he was recorded while allegedly making the demand, sources told TheCable.
Asked by the contractor if he was not afraid of Buhari's anti-corruption war, Hassan allegedly retorted: "If the president queries us, we will eliminate him."
An insider in the defence ministry said: "With the charge sheet now reading that Hassan was spreading rumours that the president was dead, the game has changed. The facts of the matter have been tailored to throw him under the bus.
"Hassan has become the scapegoat but the bulk of the contract money was shared across board. He carelessly talked himself into trouble and he will carry the can for all those who participated in the bazaar."
Read more: T
heCable
General Threatens To 'Eliminate' Buhari Over Defence Contract
Reviewed by
getitrightnigerians
on
10:15:00
Rating: