The Christian Association of Nigeria (CAN) has written a letter to Governor Ayodele Fayose of Ekiti State on his 2019 presidential ambition and charged him to remain focused as he is fit with God's grace to solve the nation's problems.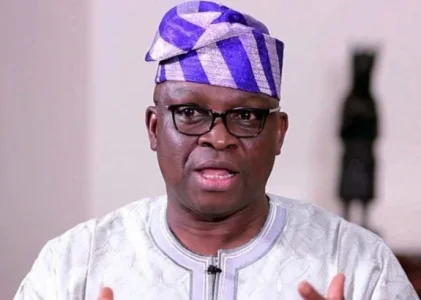 CAN, in the letter, also commended what it said was the courage and the boldness with which Governor Fayose openly declared his intention to contest the 2019 presidential election.
In the letter by the national general secretary of CAN, Reverend Dr Musa Asake, CAN also advised Fayose not to be distracted, saying his action could only be done by somebody with uncommon boldness and courage given the harassment and intimidation that would surely follow.
In the letter dated October 16, 2017 with reference number CAN/GS/IGMAILS/02/017, CAN said: "Unarguably, you have done what many of our politicians, Christians in particular, do not have the courage to do."
According to the body, "this is why I agree with you, hook, line and sinker, when in your speech you said inter alia, "You are all witnesses to my commitment to this party in this difficult period, where I have demonstrated uncommon courage that makes me stand out as capable of leading our country at this time."
The letter stated: "Your Excellency sir, because you are known to doing great in your leadership and that you will move this country forward, the enemies of progress are not happy with your declaration and are not sleeping well. The devil will use many, even those who might be closer to you to try to create lies, false accusation, spread rumours, just to distract people from seeing the good leadership qualities that are in you.
"In times like this, if honest and courageous leaders like you are not careful, this can bring discouragement. Be assured that the Lord who has led you in your leadership as the Executive Governor of Ekiti State at this time, will never let you down. Your critics have the right to say whatever they want, that is to be expected anyway. No leader should expect applause from his critics."
CAN added: "The leader that Nigeria really needs is the one that shuns the cosmetic approach because he knows it is superficial and the "quick fix it" approach because he knows it is temporary. The country needs a leader who has the courage to face problems honestly, the wisdom to understand them, the strength to do something about them and the faith to trust God to do the rest."
CAN noted that the nation's problems could only be solved by leaders who walk with God and that Fayose had always put his trust in God.
It said the assignment of rebuilding the country would not be impossible for Fayose as a leader because God's grace would be sufficient for him.
CAN 'Endorses' Fayose For 2019 Presidential Election
Reviewed by
getitrightnigerians
on
11:12:00
Rating: