Biafra Agitation is Senseless - Buhari says as he is honoured with chieftaincy Title, Statue, Commissions New Projects in Ebonyi state
President Muhammadu Buhari has described the agitation for secession in the south east as senseless.
He said this on Tuesday during his visit to Ebonyi state.
"The people of the South East are known for their ingenuity, industrial and commercial talent. There is no part of Nigeria where you will not find Igbo entrepreneurs, both men and women, contributing to the development of their adopted communities.
"So I am asking you all not to buy into the senseless propaganda on secession. Igbo is Nigeria and Nigeria is Igbo. Both are inseparable.
"We must therefore continue to commit ourselves to the development of Nigeria. A Nigeria where we sustain our national unity without compromising on our cultural identities. A Nigeria where the aspirations of its people is guaranteed without prejudice to tribe or religion. A Nigeria, where we can sleep at night knowing that tomorrow will be better than today."
The President also got conferred with two chieftaincy titles Enyioma 1 of Ebonyi and Ochioha Ndi Igbo 1, by the Ebonyi state Council of Traditional Rulers.
As part of activities for his two days working visit to South-East States, the President also commissioned some projects and laid the foundation for other projects in the State.

Muhammadu Buhari has assured the south east that his government will deliver on promises made in 2015.

According to him "My presence here today is a demonstration of my strong belief in the unity of Nigeria. As the most populous country in Africa with over 300 ethnic groups, our diversity is almost unique among the nations," he said.

The president stated that his administration's commitment to execute projects that will lead to the fast-tracking of development in the region.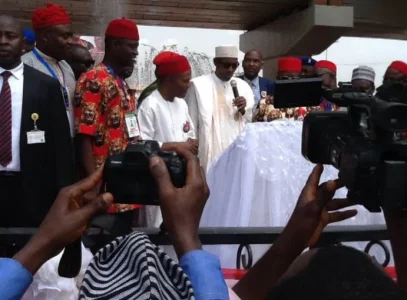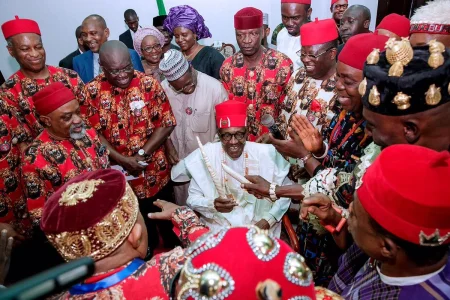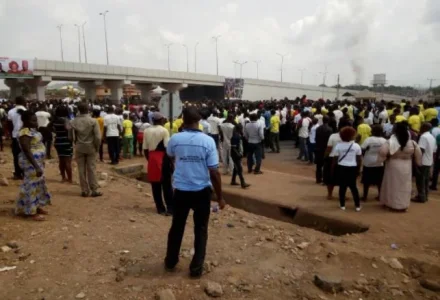 Biafra Agitation is Senseless - Buhari says as he is honoured with chieftaincy Title, Statue, Commissions New Projects in Ebonyi state
Reviewed by
getitrightnigerians
on
20:39:00
Rating: