News of Robert Mugabe's removal comes as MailOnline exclusively revealed that the elderly dictator had gone on hunger strike. One of his close family members confirmed that he was refusing to eat as a strategic ploy.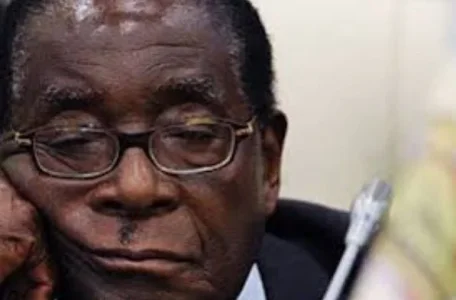 This is coming s after Zimbabwe's ruling party sacked President Robert Mugabe and appointed ex-vice-president Emmerson Mnangagwa as its new leader.
The frail 93-year-old Mugabe has not accepted any food since Saturday, the source revealed told Mailonline, as he continues to be held under house arrest at his Blue Roof mansion.
Mugabe's nephew Patrick Zhuwao said on Saturday that Mr Mugabe was 'willing to die for what is correct'.
A Zanu-PF minister confirmed to MailOnline that Mr Mugabe is also refusing to speak as part of his days-long protest.
'The old man has been trying a lot of various tricks since last night,' the minister, who asked not to be named, said. 'Hunger strikes, making threats and refusing to talk.'
Mugabe on Sunday is set to discuss his exit with army commander Constantino Chiwenga, who put him under the house arrest.
Leader of Zimbabwe's war veterans association Christopher Mutsvangwa said Mugabe should just resign from his role as president and leave the country.
93-year-old Mugabe Goes On Hunger Strike, Vows To Die after his party sacked him
Reviewed by
getitrightnigerians
on
17:33:00
Rating: