A majority of the projects the Muhammadu Buhari administration is working on was inherited from previous administrations, the Special Adviser to the President on Media and Publicity has said.
Mr Femi Adesina said this when he appeared on Channels Television's special Independence anniversary programme on Sunday.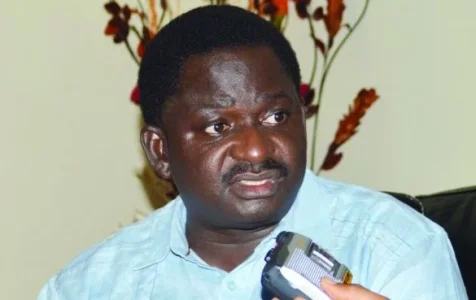 "Most of the things this administration is doing – 60 to 70 percent of them – were initiated by previous governments," he said.
"That shows you that in the past a government will come and say 'this is not our project' And it will discard what was being done and start fresh ones."
As a result, Mr Adesina said there are many half and quarter-completed abandoned projects.
But rather than abandon the project, he explained that the current administration will complete it.
An example is the Abuja-Kaduna rail project which the Presidential aide said was up to maybe 60 to 70 percent complete when the last administration left.
"This administration came, completed it and inaugurated it. Then you will still find some people shouting, 'they are claiming credit for what the past administration started," he said.
"It shows there is a mentality in Nigeria that makes governments not want to complete what previous governments have started. But this administration is not going that way at all, it is just doing what needs to be done for the good of the country."
Another example is the Mambilla power project, which has been in the works since 1972, but has now started taking shape under this administration.
In going about its activities, Mr Adesina said the Federal Government follows due process in the awarding of contracts, stressing that projects worth above N50m will require the permission of the Federal Executive Council before such a contract can be awarded.
"One thing this government does scrupulously is to follow due process in the award of all these contracts and projects.
"Anything that is above N50m must come to the Federal Executive Council. Before the FEC will endorse any project or contract, the Bureau of Public Procurement must have signed off on that project that it is worthy to be done and the projections are good, that this government does not joke about."
Previous Govts Initiated Most Of The Projects Buhari Is Doing Now – Femi Adesina
Reviewed by
getitrightnigerians
on
07:49:00
Rating: