Governor Rochas Okorocha of Imo State has accused the Peoples Democratic Party, PDP, of not building the image of the state, as well as looting public treasury.
The accusation comes days after he unveiled a huge statue in hounour of South African President, Jacob Zuma.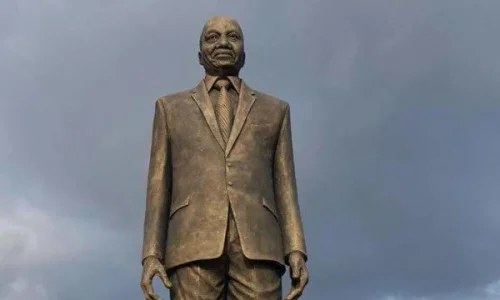 The decision has been widely criticised as endorsing the governance style of a president who is facing corruption charges in his country.
More so, the honour was done Mr. Zuma few days after another Nigerian, Jelili Omoyele, a 35-year-old, was killed in South Africa.
A statement by the Chief Press Secretary to the Governor, Sam Onwuemeodo, on Tuesday said the PDP never attracted any meaningful personality to the state.
"If it was in the days of PDP, Schools and Markets would have been shut down. And roads closed because President Zuma was coming. But none of such things was done because Rochas and his government have human face. The PDP for the 12 years they held sway never attracted any meaningful visitor to the State except PDP NEC members who were coming to loot the State," the statement read.
Mr. Onwuemeodo in the statement also explained the rationale behind the governor's gesture, saying Mr. Zuma's visit was principally to sign a MoU between Jacob Zuma Education Foundation and Rochas Foundation College of Africa.
Furthermore, he said a meeting was also held with Mr. Zuma and other businessmen at the Ikemba Ojukwu centre, including Leo Stan Ekeh of Zinox Computers, Dr. Pascal Dozie of Diamond Bank, Chairman of Innoson Motors, and a host of others.
After the meeting, the state government decided to encourage the South African president to do more and appreciated him for coming by honouring him with a Merit Award and erecting his statue, the statement added.
In a non-apologetic manner, Mr. Onwuemeodo said Gov. Rochas was determined to bring development to Imo state and would not be deterred by criticisms.
"And in case these "Galatians" do not know, if all we need to do to attract good things or investments to Imo is erecting statues, then, we have no option than to erect as many of such structures as possible. We owe no one apology. Rochas made a promise to open the doors of Imo to the rest of the world, for good and he is doing that and we cannot be deterred by these enemies of our people," he said.
Jacob Zuma Statue: Okorocha Blames PDP For Controversy
Reviewed by
getitrightnigerians
on
14:13:00
Rating: