A magistrate Court Sitting in the Tinubu area of Lagos on Wednesday ordered the remand of Aminu Abubakar, the son of a former Vice President, Abubakar Atiku.
Magistrate Kikelomo Ayeye ordered the remand for an alleged disobedience of a court order directing him to produce his son, eight-year-old Amir Atiku in court yesterday Wednesday.
On October 11, while listening to the proceedings in a case brought by Aminu Atiku's estranged wife, Fatimo Bolori, the court had made the order for the emergency evacuation and protection of the child pending the hearing of the case yesterday.
When the matter came up yesterday, Aminu's lawyer informed the magistrate that the parties were making plans to settle the matter out of court.
But the counsel to his estranged wife, Ethel Okoh, denied knowledge of an out-of-court settlement.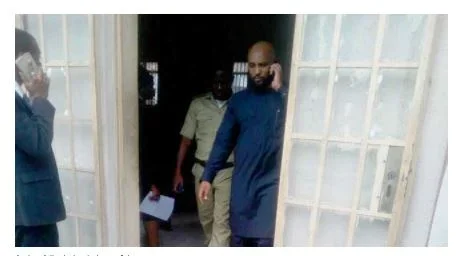 Magistrate Ayeye consequently cited Aminu Atiku for contempt of the court order made on October 11 and ordered that he should be remanded at the transit cell within the court premises while the case was stood down pending when he could produce the boy in court.
Fatimo and Aminu were divorced in 2011, and the two children of the marriage initially stayed with their mother, with an arrangement that they would spend vacations with their father.
However, during one of the school holidays in 2013, Aminu requested that they be released to him for a vacation abroad, after which he is said to have refused to let the kids return to their mother.
- Source: Channels TV
Court Remands former Vice President, Abubakar Atiku's Son
Reviewed by
getitrightnigerians
on
03:45:00
Rating: