"Igbo People Are Fools, All Their Girls Are Prostitutes, I Slept With 3 Last Night" – Nigerian Police Officer from Kwara state says
A comment made by a Police Officer on Facebook has sparked outrage online.
In what can be described as an hate comment, The police officer from Kwara state, Salihu Ajanaku, described Igbos as the most useless ethnic group in Nigeria.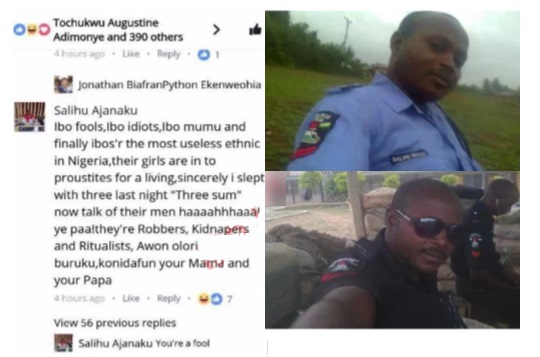 "Ibo fools, Ibo idiots, Ibo mumu, Ibos are the most useless ethnic group in Nigeria, their girls are into prostitution for a living, Sincerely I slept with 3 last night" He said in a comment he made on a post on Facebook.
He continued, "Now talk of their men, Ye paa! They're robbers, kidnappers and ritualists. Awon olori buruku, konidadfun your mama and your papa"
His comment has sparked outrage between Nigerians online.
"I don't blame him …I blame the girls ….You see this kinda demented Yoruba dirty pig faced bush police officer…..And he enters you …..I don't even know how this country in works…..You see that Biafra we will get it……", One Instagram user wrote.
Another wrote: "This illiterate just lost his job. Now someone will say they are our friends,how is that now ? When a law enforcement officer can make such a disgusting statement. We don't need your opinion to tell us about Igbo ladies nor their guys. You need to be responsible asshole… As the matter of fact I'm a Yoruba guy but I can die defending Igbos not in support of Biafra though"
"Igbo People Are Fools, All Their Girls Are Prostitutes, I Slept With 3 Last Night" – Nigerian Police Officer from Kwara state says
Reviewed by
getitrightnigerians
on
18:35:00
Rating: