FOUNDER/Spiritual Director of Catholic Adoration of the Holy Spirit and Favoured Children of the Orphanage of the Holy Spirit in Maryland-Egoro Amede, Ekpoma, Edo State, Reverend Father John Damian Adizie has spoken about his life and ministry in an interview with Vanguard News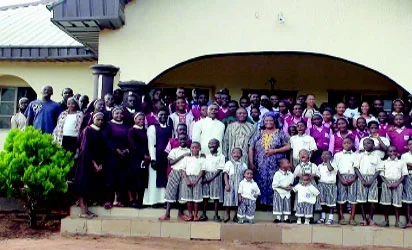 Being born in abject poverty and struggling through his early years, he endured all and later proceeded to Carmelite Order, an Order of the Brothers of the Most Blessed Virgin Mary on Mount Carmel who helped him and sponsored his theological training.
He was ordained at Immaculate Heart Parish in his home town in 2004, the first Carmelite to be ordained there. In appreciation of the divine intervention in his life after the demise of his parents, he entered into a covenant with God, that any orphan that comes his way is a favored child. He found a co-traveller in Ezinne Nneoma Charity Onuoha, co-founder/matron with whom he found the orphanage/rehabilitation home.
"That's why I call the orphans here favored children. Because God favored me through the Carmelite Order, I said I'll also favor other orphans. That's what gave rise to the vision and immediately after my ordination, we started a Catholic Adoration of the Holy Spirit. And the first thing God told me was that the ministry would create resources. God gave me various options to choose from and I immediately opted for an orphanage. We don't have agencies funding us but on a daily basis, you see God providing for us.
When asked how he started the orphanage, he replied ''We announced it to the community, saying if there were stranded children or those who ought to be in school but were not or those without parents, they should be brought to us. And people started coming. As time went on, we got it registered under the Women Affairs and Corporate Affairs Commission, Abuja. We started with one orphan who we nicknamed as Senior Orphan. His name is Victor. He's now a graduate. God does not give people a load they cannot carry. Today, we have about 98 children.
Source: Vanguard Newspapers
How I Take Care Of My 98 Children - Catholic Priest
Reviewed by
getitrightnigerians
on
08:25:00
Rating: