Not less than four states have rejected leader of the Indigenous People Of Biafra, IPOB, Nnamdi Kanu's proposal to be among the proposed Biafra states.
They include Rivers, Kogi. Delta and Benue.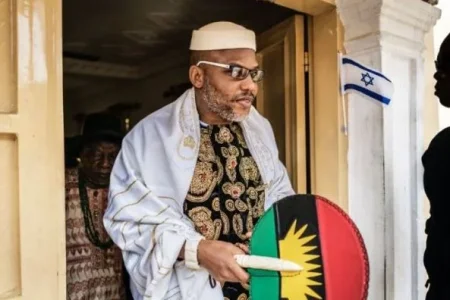 Kogi
The Igala Socio-Cultural Group expressed disgust over their inclusion in Biafra. A spokesman of the group, Mr Barry Moses Idakwo, noted that the inclusion has made nonsense of the ancient Igala nation.
The group pointed out that Nigeria is a democratic country where citizens should be allowed to live peacefully and secured as prescribed by laws.
"The agitators for Biafra have marginalisation as the main plan for their grievances. It is therefore unthinkable to annex the Igala kingdom without consulting us," Idakwo said.
Benue State
A former Minister of State for Education, Professor Jerry Agada, said Idoma land should be left out of the purported Biafra territory.
He warned agitators of Biafra to stop the inclusion of Idoma people in particular and Benue State as a whole in their map.

Rivers State
A former Director-General of the Nigeria Intelligence Agency (NIA), Chief Albert Korubo Horsfall, said Port Harcourt won't be part of Biafra.
"Gowon declared no victor, no vanquished verdict and that concept is still there. We are living happily with everybody. Port Harcourt is the capital of Rivers State. From time-to-time the issue of Port Harcourt has been an object of agitation. Port Harcourt was one of the issues the so-called Biafra demanded and this matter was discussed in Kampala. I don't know why people are worried about Biafra and want to resurrect and create tension which is totally unnecessary," he said.

Delta
President General of Urhobo Progress Union, UPU, Worldwide, Olorogun Moses Taiga, has said that the nation does not have any binding with the Igbos.
Taiga explained that Biafra and Urhobo do not even share a common boundary and there is nothing binding the Igbos with them.
You recall, Akwa Ibom state was the first to opt out of the seccession struggle. Do you think this is good or bad for Nnamdi Kanu and Nigeria? pls lets have your comments below
4 More States Reject Nnmadi Kanu's Biafra Proposal
Reviewed by
getitrightnigerians
on
07:54:00
Rating: