A 32-year-old bank worker, Olaoluwa Adejo, is in police custody for the alleged murder of his 28-year-old wife, Maureen, at their Oworonshoki home in Bariga, Lagos state.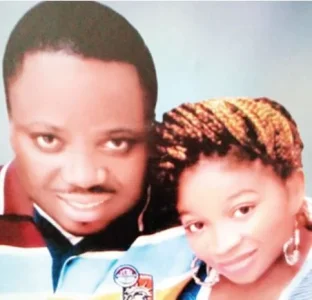 The 32-year-old Lagos indigene was alleged to have tortured his wife of five years with a belt, as well as cutting her with a machete.
Their five-year-old son, Richard, in whose presence the incident reportedly happened, told PUNCH Metro that his father also forced a local insecticide, otapiapia, down the throat of his mother.
"I am Richard Adejo. I am five years old. My daddy beat my mummy with a belt; machete her here (shows arms), machete her here (shows legs). He used the belt on her here (points at face); forced my mummy to drink otapiapia (insecticide). My daddy took my mummy away.
"My daddy said my mummy should get out of the house. My mummy said no. In the night, my daddy woke my mummy up and said, 'Mosquito is too much, let me go and buy otapiapia'. My daddy forced my mummy to drink it. She shook her head. She vomited.
"My daddy slapped my mummy. My mummy did not do anything to him. My daddy gave her one blow. My daddy kicked her. My daddy told her to get out of the house and carry her load. Small blood came out. My daddy slapped her, kicked her, machete her, blow her, and put otapiapia in her mouth and in the food," Richard told our correspondent during an interview on Monday.
The victim's mother, Mrs. Kate Jonathan, told PUNCH Metro that Richard had given more graphic details of the incident to family members, police authorities and officials of the Lagos State Ministry of Justice.
She explained that her daughter had packed out of her matrimonial house five days to the incident and was living with her when she decided to return for a party at the children's school. She said she never returned alive.
She said, "I was called on the telephone by an unknown number around 4pm on Sunday, November 12. The caller said, 'Your daughter's husband has killed her at Oworo'. He dropped the call.
"Around 5pm when I got to their house, I discovered that the house was locked up. There were two boys guarding the house and they refused to open the door to me, saying the owner of the house instructed them not to open the door.
"I didn't see my daughter or her husband. I was begging them to open the door when I saw Richard jumping up through the window. He saw me and asked the boys to open the door, but they refused.
"I broke the louvers of the window. The boy climbed a stool and said from inside, 'my father has killed my mother and taken her away.'"
She said she reported the case at the Oworonshoki Police Station, where she was told that the suspect had already reported that his wife committed suicide by taking local insecticide, Sniper.
Jonathan said after making her statement, she left the station.
PUNCH Metro was told that Olaoluwa had already deposited the body of his wife in the Gbagada General Hospital mortuary and had allegedly gone to obtain court documents to enable him to bury her.
Our correspondent learnt that he was asked to return to the police station for a certain document, which led to his arrest based on his mother-in-law's complaint.
The suspect was said to have been transferred to the State Criminal Investigation and Intelligence Department, Yaba.
However, the couple's three children were said to have been taken to a family friend, a policeman, who lived in Agric, in the Ikorodu area.
Due to the insistence of the mother-in-law, the police were said to have demanded the release of the couple's first child, Richard, for interrogation.
In a meeting at the SCIID, Yaba, Richard was alleged to have given an account of how his mother was allegedly murdered by his father.
The police reportedly ordered the removal of the corpse from the Gbagada General Hospital mortuary to the morgue of the Lagos State University Teaching Hospital, Ikeja.
The victim's mother, Jonathan, who claimed to have visited the mortuary, said Maureen's body had machete cuts and other torture marks.
She said, "My daughter, who worked as the manager of my chemical company had, about a week to the incident, complained that her husband said we would soon see her obituary.
"I sent my eldest daughter to accompany her to the house to know what happened. The man begged and said he was only joking. He said he really loved his wife. I insisted that she pack out of the house.
"She was in my house for three days before she said she wanted to return home because her children's school would be having a cultural party. She left and went to the party with her husband on Saturday. It was that night that she was brutalised and killed by the husband. From what we saw in the mortuary, she had blood in her nostrils and deep cuts in her hands and legs."
The victim's mother asked that Maureen's three children, namely, Richard, five; Henry, three; and Omowunmi, six months, be released to her.
The policeman with the couple's two children, Ajisafe, said he believed Olaoluwa did not kill his wife.
He explained that the suspect's aged mother handed over the children to him for safekeeping.
The 83-year-old mother of the suspect, Florence Adejo, also denied that her son murdered Maureen.
She said, "He came to knock on the door of my house late that night. He fell on the ground and started weeping and lamenting that his wife had destroyed him. A crowd gathered in front of the house where I am the landlady. They tried to console him. He said his wife took Sniper. He said he thought it was a joke until their son, Richard, went to bring the container of the insecticide.
"She was taken to a private hospital where she was initially rejected before she was taken to the general hospital where she died. I was told her mother sells the insecticide and she brought it home for mosquitoes. Why she decided to drink it is what is beyond my understanding. My son said they didn't have any disagreement between them and she was not mentally ill."
The Police Public Relations Officer, SP Chike Oti, said investigations were ongoing into the incident.
He said, "The man came to report that his wife committed suicide. The DPO put some questions to him. We thought we should investigate further to know what really happened because there are some doubts we need to clear in the matter. The police are not accepting the claim of suicide hook, line, and sinker. The matter is at the SCIID and investigations are ongoing."
PUNCH

32-year-old bank worker Savagely Tortured Wife to Death [Details]
Reviewed by
getitrightnigerians
on
08:59:00
Rating: