Leader of Nigeria's secessionist group, Indigenous Peoples of Biafra (IPOB), has been cautioned against unwanted utterances in his Biafra agitations.
Head of the Enugu Province of the Anglican Communion, Archbishop Chukwuma, gave the warning in an interview with the Sun Newspaper. "The way Nnamdi Kanu and his team are going about the Biafra agitation, is nothing to write home about." the cleric said.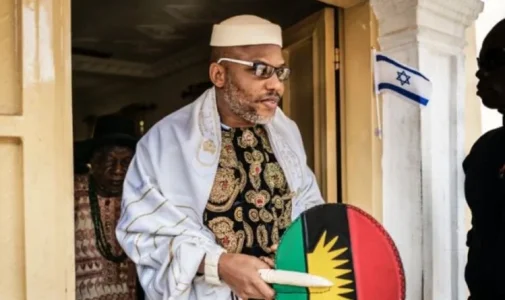 "He did not see the civil war, so I'm not happy with him. I am bitter with Kanu because those who fought for him and those who spoke out on his behalf. He has not even visited some of us. Rather he is talking rubbish somewhere else," the clergy said.
"We don't want anybody to put us into war. We must come to discuss and he must be cautioned to mind what he is saying sometimes. Because as far as I am concerned most of us are talking on his behalf but he has not come."
In addition, he noted that, "Rather he is going to profess himself to be a Jew or whatever. Was it Judaism that saved him? We prayed for him. We talked about him. Many of us were given bad names but up till now he hasn't even come to pay homage and for us to advise him.
"So whatever he is saying he is saying it on his own. It is his followers and all these people who are now listening to him, particularly even some of the Igbo in the Diaspora that may be sponsoring him. They should be careful and stop disrupting our peace here and giving us a bad name."
Nnamdi Kanu Should Stop Saying Rubbish, Did He See The Civil War? - Enugu Cleric
Reviewed by
getitrightnigerians
on
16:37:00
Rating: