Photos/Video Of an Imo State Chief Addressing The Public With Young Neaked Ladies has got Everyone Talking
Francis Nwaneri, a Paramount chief was given the mandate to unite all Africans and to protect the African culture and heritage.
Against this backdrop, he founded the South West African Forum, SWAF, with branches all over Africa and a vision to bring all Africans together, promoting ideals of love and peace and to resist Western intimidation.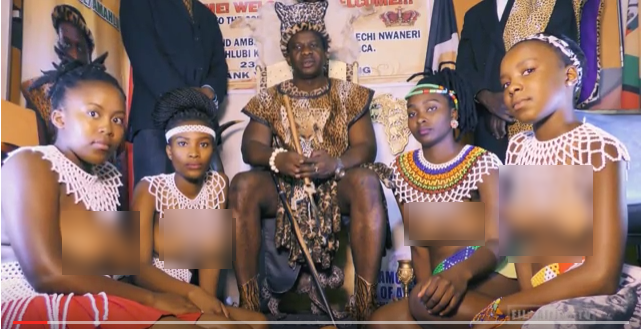 Six years ago supported the work of Christ by creating the organization, Gospel Music Association of Africa, registered as Glorious Voice of Africa, in which several Gospel singers in Africa were promoted.
Chief Francis Kelechi Nwaneri is happily married and blessed with six children.
But something still looks weird! Chief Francis is always surrounded with ladies who expose their breast! Young women going topless while addressing the public.
Chief Francis is reportedly the Prince of Mboku kingdom in Ihiagwa, Imo State!
A first look at the photos would however confuse you for a Zulu king and his maiden

see a video of him below



— PREMIUM TWEEP (@XANTAPLUS) July 14, 2017
Photos/Video Of an Imo State Chief Addressing The Public With Young Neaked Ladies has got Everyone Talking
Reviewed by
Get it Right Nigerians
on
09:38:00
Rating: