The Federal Government, on Tuesday, alleged that the proscribed Indegeniuos People of Biafra, IPOB, were behind recent cache of arms that were intercepted in Lagos by the Nigeria Customs Service, NSC. IPOB cartoon FG, while justfying its decision to apply for the IPOB to be outlawed, told the Federal High Court in Abuja that its investigations revealed that members of the group imported arms, comprising of pump action rifles, from Turkey.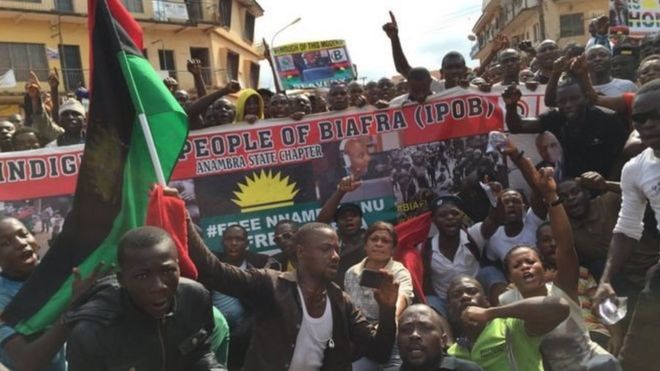 It said the deal was brokered by a Turkish national that allegedly visited the 'missing' leader of the IPOB, Mr. Nnamdi Kanu, shorty after he was released from detention.
The Solicitor General of the Federation, Mr. Dayo Akpata who represented FG, urged the Acting Chief Judge of the high court, Justice Abdu Kafarati, to dismiss the motion IPOB filed to quash the proscription order. It will be recalled that Custom operatives had between January and September this year, intercepted about four containers laden with arms. 1,100 pieces of pump action rifles that were recovered at the Tin Can port, Apapa, Lagos, on September 19, brought the total of such arms that were seized since January this year, to 2, 671. Meantime, in a 23-paged counter-affidavit it filed in opposition to IPOB's motion dated September 21, FG, told the court that the secessionist group "have been associated with violent activities".
It said: "Furthermore, the leader of the Respondent/Applicant, one Nnamdi Kanu has been openly advocating for armed struggle via his speeches, calling Nigeria a zoo, threatening that Nigeria will burn if he is arrested, etc.
The intent of the Respondent/Applicant from the onset is to cause confusion and plunge the country into crisis.
"That Biafra is not a region in Nigeria and there are also no States known as Biafran States under the 1999 Constitution of the Federal Republic of Nigeria, as amended.
"That in opposition to the depositions in paragraph 6 of the supporting affidavit, I am aware that the Respondent/Applicant's activities havr been targeted at causing a violent break up of Nigeria.
"That as a confirmation of the fact that the intentions of the Respondent/Applicant from the onset is to cause a violent breakdown of law and order in Nigeroa, Nnamdi Kanu openly solicted for arms to wage war against Nigeria at the World Igbo Congress held in California, USA in 2015.
"That a Turkish citizen, Abdulkadir Erkahraman, visited Nnamdi Kanu the leader of the Respondent/Applicant in Isiama Afara, Umuahia, Abia State sometimes in July 2017, and has been canvassing support for the secessionist agenda of the Respondent/Applicant. He also admonished 'Biafrans to rise up and fight a good fight for freedom'.
"That the Nigerian Customs Service had on four occassions this yeat intercepted pump action rifles totalling 2,671 illegally imported into the country from Turkey".
Vanguard
Biafra: IPOB Imported Arms From Turkey To Destabilize Nigeria, FG Tells Court
Reviewed by
getitrightnigerians
on
09:03:00
Rating: