President Muhammadu Buhari has written President of Guinea, Alpha Conde, for the nationwide prayers held last week by Guineans for his recovery and good health.
The President in the letter dated July 24 hinted that his return from the United Kingdom to resume duties at home is subject to his doctors' advice.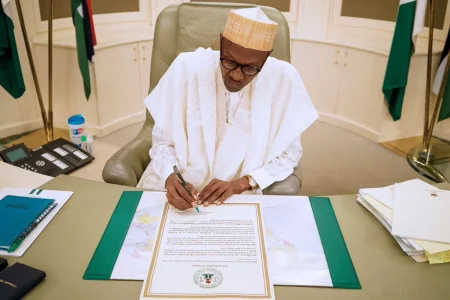 President Buhari, however, assured that he was making good progress and would resume duties as soon as his doctors advise.
Presidential spokesman, Mr Femi Adesina, in statement on Tuesday, quoted Buhari.
President Buhari has been in the UK since May 7 for follow-up consultations with his doctors.
He quoted Buhari as writing: "I thank you for your kind and thoughtful action in organizing nationwide prayers for my good health. It is a gesture that I will forever cherish and treasure.
"Your Excellency will be pleased to hear that I am making good progress, and as soon as doctors advise, I shall return to my duties and continue serving the Nigerian people who elected me and are daily praying for my recovery."
Adesina said Buhari had, in an earlier letter, also accepted his nomination as leader of the "2018 AU Theme on the Fight Against Corruption", which came from African leaders at the 29th Session of the Assembly of Heads of State and Government of the AU in Addis Ababa, Ethiopia, on July 4, 2017.
He also said Buhari wrote Conde thus: "While thanking you for the kind words and for the nomination. I wish to express my readiness to accept this new important role and to reiterate my commitment to contribute towards our collective efforts to strengthen good governance and development on the continent. I, therefore, look forward to working closely with you in the realization of this objective."
Buhari Writes Guinea President, States Why He Can't Return Now
Reviewed by
getitrightnigerians
on
07:25:00
Rating: