In Petaluma, California, a 3-year-old, 125-pound Neapolitan Mastiff named Martha, won the 29th annual World's Ugliest Dog Contest. Coming in the first place before 13 other dogs (most of which were rescued from shelters), she was the only dog too big to be held by her handler, Shirley Zindler.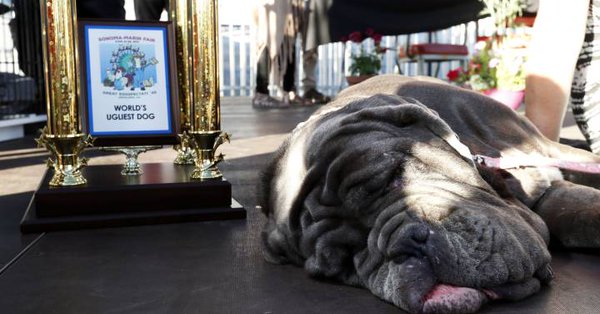 Leaving the contest with $1,500, a trophy and a trip to New York for media appearances, Martha was rescued by the Dogwood Animal Rescue Project in Sonoma County when she was nearly blind. According to BBC, she can now see again after several surgeries. The contestants were judged on first impressions, unusual attributes, personality and audience reaction.
If Martha is big, ugly, lazy, gassy and still a world champion, you can be anything you want to be.
Meet the World's Ugliest Dog, 3-year-old Martha, who just won $1,500 for being so Ugly [photos]
Reviewed by
getitrightnigerians
on
07:59:00
Rating: