The Lagos State Government says it will resume the sale of LAKE Rice on Monday at the normal price of N12,000 for 50kg bag as the Eid-el-fitr draws closer.
Commissioner for Agriculture, Mr Oluwatoyin Surau disclosed this on Sunday, saying that the sale of the product woud resume at designated approved retail outlets across the State on Monday, 19 June, 2017.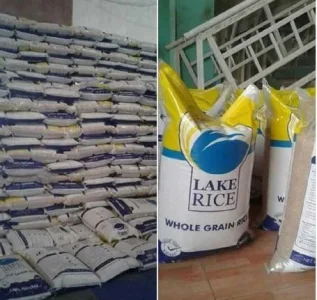 Suarau explained that the sale of the product was part government's commitment to ensure that Lagosians scale through the current economic recession.
While noting that the Lagos State Governor, Mr Akinwunmi Ambode had assured Lagosians that his government would do all it could to achieve food security and create more jobs through the State, the commissioner hinted that sales of the product was auspicious, especially with regards to the forthcoming Eid-el-fitr celebration.
The Commissioner listed the approved sales outlets to include: Lagos State Agricultural Input Supply Authority Centres at Ojo, Ajah, Odogunyan in Ikorodu, and Epe as well as the secretariats of all the 57 Local Government and Local Council Development Areas in the State.
"Lake Rice would also be available for sale at the Agricultural Development Area Complex Oko-Oba, Agege; LTV Complex Agidingbi; State Universal Basic Education Board, Maryland; Government Technical College, Idimu-Alimosho and the Eko Farmers Mart Surulere", Suarau added.
While noting that the prices of the product has not changed, he said that the 50kg bag of LAKE Rice would be sold for N12,000 while the 25kg and 10kg will be sold at N6,000, and N2,500 respectively.
Don't Just Read, Pls Drop a comment. Click Here to Download Our App and stay up-to-date with our trending stories