Charly Boy's group 'Our Mumu don do' has announced a topless protest slated for June 12.

A statement issued by Adebayo Raphael, Publicity Secretary, OurMumuDonDo read, ''This is to inform all Angry, Vexed, Frustrated, and Genuinely Concerned Nigerians that on Monday, 12 June 2017, the OurMumuDonDo movement will hold a Nationwide Topless March to protest the despicable state of living of the common man and the indifference of political leaders to the quandary of the common man.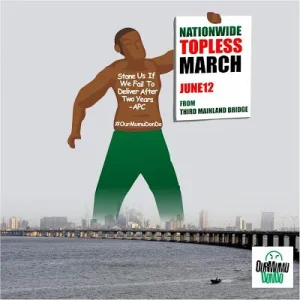 ''This protest will be hinged on a vociferous and vigorous demand for Fulfillment of Campaign Promises, Creation of Jobs for unemployed youths, and Increment in Minimum Wage for the proletariats.
''The main March will hold in Lagos State and will start by 8:00 AM from the Third Mainland Bridge. Male participants at the protest are expected to appear topless with inscriptions of their most dreadful predicament as it relates to the three major demands for this mass action on their placards or chest. Female participants are not allowed to participate bare-chested but can participate by hoisting placards with inscriptions of their most dreadful predicament.''
Charly Boy To Lead Topless Protest On June 12
Reviewed by
getitrightnigerians
on
06:06:00
Rating: